Heather Ward, teacher, author and composer – Recorder Music for Children
I was a primary school teacher in Leeds and Bristol and have worked with recorder groups, children's orchestras and choirs throughout the primary age-range.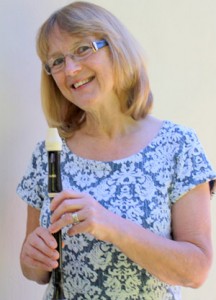 While there was always a good variety for singing and instrumental playing, I found that much of the recorder music for children to play was dull and uninspiring. By the end of the year, some of the girls stuck with me, but I'd lost most of the boys' interest. This made me realise that new music was needed and I wrote a recorder course for young beginners, Franzo Frog and his Friends published by Heinemann (1996, nla).
Children love making music and the current policy of introducing them to the ukulele, drums and a range of string or brass instruments is exciting and instantly rewarding. However, alongside these musical experiences, the recorder is the ideal instrument for every child to own, learn to play, read music and find their inner musical talent.
The four new books have all been inspired by children's enthusiasm for playing music which is relevant to them. I have made them all child-friendly and tuned in to the needs and likes of the modern primary school child.
Blown Away Book 1: Descant Recorder for Beginners
Blown Away Book 2: Descant Recorder for Beginners
Guinea Pig Gig: Two-Part Songs for Descant Recorders
Fairground Fiesta: A Course for Treble Recorder with Songs and Tunes for Descant and Treble Recorders
Starting to play an instrument and to read music demands a lot of children, and these books are designed to take each step slowly and carefully. Each character in the books introduces a new note (B for Biker Ben, A for Annie's Animals). The words of the songs provide the rhythmic framework which allows the child to enjoy playing and to concentrate on note recognition and fingering until they feel confident. There's a glossary of musical terms for children and adults to refer to as necessary.
Acknowledgements
I am very grateful to the following for their contributions to the books
Instrumental Accompaniments: Jacquelyn Bevan
Arrangements and Recording: Jules Addison, 4 Part Music
Illustrations: Trevor Dunton (Blown Away 1 & 2)
Jane Carter (Guinea Pig Gig and Fairground Fiesta)